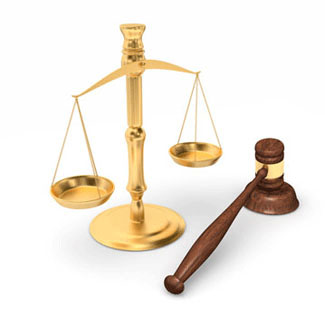 The World Awaits The Johnson & Johnson Talcum Powder Bankruptcy Appeal
Bankruptcy would shelter Johnson & Johnson from enormous punitive damage awards due to their reprehensible corporate behavior
Tuesday, April 19, 2022 - We are now 2 weeks into the expedited appeal of the Johnson & Johnson Baby Powder bankruptcy request made to shelter the company's $400 billion health care business. Trials that were in progress and some that have gone to the jury have been put on hold while a federal bankruptcy appeals court judge weighs in on the matter. Previously, bankruptcy Judge Michael Kaplan of New Jersey decided to allow Johnson & Johnson's request to place their talcum powder spinoff company into bankruptcy. If the judge's decision is allowed to stand it could have an impact on the entire legal and financial system that we operate within. The appeal is of far-reaching concern not only to the 40,000 women with ovarian cancer that have registered to file suit against J & J but also to every American company. If the Johnson & Johnson spin-off company, LTL management, is allowed into bankruptcy it would preclude current and future talcum powder cancer lawsuits and effectively force plaintiffs to accept whatever little settlement the company offered and also delay when they received the money for years. Those could be years that plaintiffs cannot afford to spare as their ovarian cancer diagnosis carries with it a rapid death sentence. According to cancer experts, late-stage ovarian cancer has less than a 5% five-year survival rate. The Johnson & Johnson Texas Two-Step bankruptcy would also allow any company subject to mass tort personal injury litigation to avoid having to face its accusers in court. Reuters wrote about the expidited talcum powder bankruptcy appeal and how the appeals court judge's opinion would have far-reaching consequences. "Judge Michael Kaplan ruled that the Chapter 11 filing by a J&J subsidiary was not an abuse of the bankruptcy system. On Wednesday, he allowed cancer plaintiffs to challenge that ruling directly in the 3rd U.S. Circuit Court of Appeals, fast-tracking a dispute that has drawn attention and criticism from lawmakers. Clearly, this impacts decisions and potential restructurings beyond what's being litigated in this court," according to Reuters.
Perhaps the greatest benefit to Johnson & Johnson of their talcum powder bankruptcy, should the judge's decidion to allow it stand, would be to shelter the parent company from punitive damages like those juries have levied against the company in about a dozen trials to date. Most individual plaintiffs have been award around $100 million. One trial that was decided in favor of 22 plaintiffs with talcum powder cancer in 2018, and confirmed by a Missouri appeals court and the US Supreme Court, awarded the women $2.1 billion, 90% of which was punitive damages. Johnon & Johnson is accused of targeting African American women with their baby powder advertising since the early 1970s when they first learned that the asbestos that contaminated their talcum powder was carcinogenic. At the time Johnson & Johnson was financing scientific experiments on African American prisoners that injected them with asbestos and talc to compare the effects of both on their health. Today, Johnson & Johnson has redirected their talcum powder sales strategy to target women of color in India and elsewhere in underdeveloped, under regulated, and generally less well-informed demographics.
Information provided by TalcumPowderCancerLawsuit.com, a website devoted to providing news about talcum powder ovarian cancer lawsuits, as well as medical research and findings.