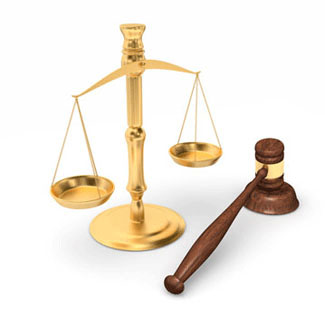 Attorneys Get Creative When Trying To Explain What Fibers Can Be Considered Asbestos To a Jury
Defining the term "asbestos" is as important as the tests used to find the narurally-occurring yet carcinogenic fibers in talc
Friday, April 17, 2020 - A recent blog post by Courtroom View News (CVN) an online courtroom videotaping service, posted a video of the interesting and creative analogy a plaintiff attorney recently employed during closing arguments to try and pursued the jury that Johnson's Baby Powder contains asbestos and that the company has known about it for decades. It seems as if Johnson & Johnson's internal company memos dating bact to the late 1970's used a variety of creative terms in their correspondence to describe asbestos fibers. During the trial, plaintiff attorneys accused the defense of trying to confuse the jury by telling them that the company was not looking for asbestos because they never said "asbestos." The CVN blog stated that plaintiff attorney Chris Panatier of Simon Greenstone Panatier told the jury, "J&J had known for decades that asbestos was in its talc but engaged in linguistic gymnastics to avoid acknowledging it. Panatier highlighted J&J documents that he said described tremolite in the talc the company used. Now, if tremolite was no big deal and it was always there and everyone knew it, why are they looking for it, over,and over, and over, and over, and over again? Panatier asked. Why do they care?" Panatier went on to tell jurors that "J&J used a variety of terms in its internal documents, such as asbestiform, fiberform, and rods, which he said was all actually asbestos," according to CVN. Talcum powder cancer attorneys have been helping Americans nationwide with vast experience and a winning track record and offer a free no obligation consultation before filing a claim.
Panatier then made the interesting analogy of a person who walks into an ice cream parlor and asks what you have and you say "chocolate, vanilla, and strawberry," and the customer replies, "no, I mean what flavors of ice cream do you have?" The same can be said for terms like tremolite, asbestiform, fiberform, and rods which are flavors of asbestos. The jury agreed with the plaintiff and returned a decision for the four plaintiffs suing Johnson & Johnson for causing their mesothelioma by containing asbestos, a known carcinogen. The four plaintiffs were awarded $37 million for compensatory damages and a second jury seated to determine punitive damages layed out Johnson & Johnson with a 750 million dollar punitive damages award that the judge immediately reduced to $186.5 million.
Defining the term asbestos is as important an issue for the FDA to resolve as the means that they employ to look for it. "What is asbestos" is a question that is now being asked as government and industry argue over which method of testing talc is better. Certain testing methods that the US FDA wants the cosmetics industry to adopt are considered too sensitive and yield false positive readings according to the cosmetics industry which has been left to self-regulate for the better part of the last century. Cosmetics industry tests of talc, led by industry giant Johnson & Johnson have repeatedly produced negative readings for asbestos.